Ruud Is Too Expensive For Bucs?
December 18th, 2010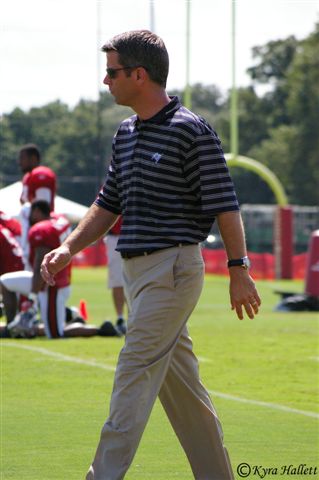 Joe learns something when he reads NFC South blogger Pat Yasinskas of BSPN.com.
(Joe's not speaking to the value of the information, just that he learns something.)
One of Yasinskas' lessons during Friday's live-chat on BSPN.com was about defense.
Previously, Yasinskas has written about how he believes Shelton Quarles and Hardy Nickerson were not studs and the middle linebacker position in the Bucs defense is just an afterthought. Friday's lesson expanded on that concept when he claimed Barrett Ruud was a goner after the season because the Bucs won't pay big money for anyone patrolling the middle of the field.
RedzoneJones – Why would the Bucs let Ruud go when their defense isn't where they want it to be as of yet it would create another hole

Pat Yasinskas – Because he's going to have an opportunity to get big money elsewhere. They're not going to pay big money for an MLB because it's not a critically important position in their defense.
Joe attended a different football school.
Joe's always been of the belief that middle linebacker is extraordinary critical in any defense, in addition to the fact that every position on an NFL defense is important because NFL offenses as well as coaches are talented enought to exploit a weakness.
Regardless, Joe's not sure why Yasinskas doesn't see that the Bucs are getting gashed right up the gut, an area where Ruud hangs out. Two years ago, Yasinskas wrote a feature about how Ruud was a Pro Bowler, a guy who deserved national love, an up-and-comer. Yet Ruud has regressed but Yasinskas thinks he's going to command dollars too big for the Bucs.
Yasinskas is a fascinating writer. For Yasinskas' next football lesson, Joe can't wait to learn what other positions on the football field aren't critical.