Blanket Falling On Mike Williams
December 18th, 2010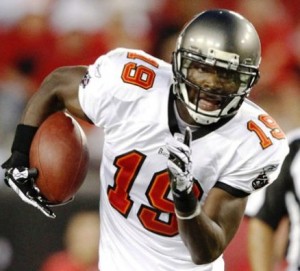 With 52 catches, seven touchdowns and 784 yards receiving, it makes sense that attention on Mike Williams is helping the breakout of Arrelious Benn. 
Speaking on the Buccaneers Radio Network last night, Williams talked about how he's enjoying the respect and challenge of defenses focusing on him more than they did early in the season.
"They're changing coverages for me. I run to one side, and they change the coverage. It's like giving me respect now. It's getting a lot of other guys open," Williams said. "Like the Atlanta game, if you all see the last drive of that game, they broke a linebacker out to press me with the corner over top and the safety over the top of him. I've never seen that before in my life. That was crazy."
Joe imagines that with Benn emerging over the past seven weeks capped by his breakout game in Washington, life might get easier for Williams on Sunday and through rest of the season.
If Williams can reach 60 balls and hit 1,000 yards, it's going to be hard to keep the Rookie of the Year honor from him, unless LeGarrette Blount also finishes strong and takes too many votes from him.