Roy Miller Has A Chance To Shine
December 4th, 2010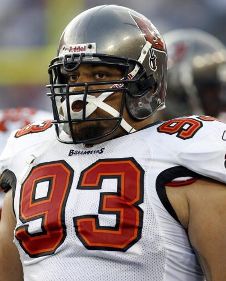 For much of the season the Bucs defensive line stunk worse than an Ybor City restroom in the wee hours of a Sunday morning.
The defensive line was gashed constantly by obscure, little-known third string NFL running backs and opposing quarterbacks could order pizzas without being disturbed.
But in recent weeks the D-line has done a complete 180 and is now becoming — ready for this? — dominant. Part of the reason for that is the improved play of Roy Miller.
Miller, who had some impressive numbers as a rookie, was virtually invisible for the first six games or so for the Bucs, getting shoved around like a high school player. But maybe not coincidentally, Miller's improved play has mirrored the Bucs' improved defensive line play.
Former Bucs defensive end Steve White, on his blog "Passing on the Game," writes that Miller has a chance at a monster game Sunday against the Dixie Chicks.
Roy Miller started with his improved play for the last few weeks with a good showing against Atlanta the first go around. He will need a better performance this time to help get the win. One thing about the Falcons is that they allow their center to single block the nose tackle a lot more than normal. What he tries to do is get the nosetackle to push him upfield rather than expanding, especially when there is a zone running play called. My advice would be for Roy to tighten down his alignment a little bit so that he heavier on the center. And then when the center tries to reach him rather than getting up field he should try to rip off and go laterally to either make the tackle or make the ball bounce back behind him. And Al Woods who backs Miller up should be doing the same thing.
It's not a cliche to suggest if you are strong up the middle your defense will also be strong. If the Bucs can be stout in the middle of the defense tomorrow, it will go a long way to the Bucs (finally) beating a team with a winning record.
Here's a couple of other nuggets to digest to get fired up for Sunday's game: Five times this season the Bucs have shut out their opponent in the second half. Also, in the NFL it's tough to win on the road but the Bucs have been up to the challenge, winning three of their last four on the road.