Raheem Showers Okam With Love
December 28th, 2010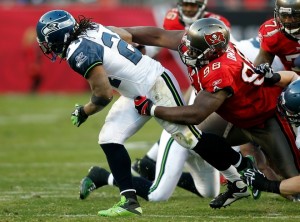 The human mountain the Bucs played at defensive tackle in Gerald McCoy's 3-technique position, Frank Okam, showed up big on Sunday against Seattle.
Well, at 350+ pounds Okam always shows up big, but Joe mean that he had a stellar game.
Raheem Morris went out his way to praise Okam during The Raheem Morris Show on WDAE-AM 620 on Monday.
"I just want to give Okam a quality shout at what he was able to do [Sunday]. You're talking about seven tackles, two assists, an against all odds mentality. He got tackles behind the line of scrimmage. He was a disruptive force. He was. He played well," Raheem said.

"He's one of the guys that got a game ball from his teammates. And got it from the organization. He played well yesterday. Really well."
Joe chatted with Okam about his great day and much more after the game Sunday. If you missed that interview, you can read it here.
Of cours, Okam has a lot to prove, but what a find Okam could be as a d-tackle to work into the rotation. Joe suspects nobody will be yearning for Ryan Sims.