Mark Dominik Speaks
December 28th, 2010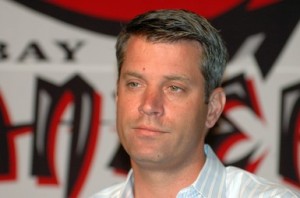 Bucs rock star general manager Mark Dominik graced the airwaves of "The Blitz" Monday afternoon for an extensive interview with co-hosts Adam Schein and Rich Gannon heard exclusively of Sirius NFL Radio. Of course Joe transcribed the interview. Regular readers would expect no less.
Adam Schein: Mark, welcome to the program, this is Adam Schein along with Rich Gannon.
Mark Dominik: Oh, I wouldn't miss that voice from anywhere Adam.
Rich Gannon: Mark, you have to be proud and happy today the way your team has played this season.
Dominik: We really are. To think of where we are at Week 17 and to still be in the playoff hunt, it speaks volumes about what our coaches have done. I think you have seen it Rich. You've been around practices.
Schein: Mark, I want to get your take. When did you know this was going to be a successful season?
Dominik: There were two moments Adam. The first was in the offseason to see Josh Freeman's work habits and how he worked with the coaches and being a strong leader on the field and then it was the draft. We felt we had a good collective draft. We all worked together in the draft, myself, coach Morris and Dennis Hickey and his scouting staff. We thought we had this going in the right direction. Now, we just have to grow.
Gannon: You talk about growing up quickly. You've had a lot of injuries. Seven starters are on the injured reserve list in the last month alone I think. You are the first team since the 1970 merger to have 10 rookies start and still having a winning record. You have had smart, young players really come on.
Dominik: I have to pat the players on the back. For the coaches to get these guys prepared and still have a chance to get to 10 wins is fantastic. We now can get Mike Williams and LeGarrette Blount a chance at history. I'm excited.
Schein: Mark you hit on two gems. Mike Williams and LeGarrette Blount who, I liked him on the college level. You guys did your diligence following him with the Titans. Did you ever know, ever dream he would be this intriguing?
Dominik: We all felt he had a ton of talent. What's so great about Blount here, is that Steve Logan, our running backs coach, got him up to speed in our offense. Rich knows this system. It's a lot of work for a young back to be successful. That was what was most impressive was Blount's worth ethic and the work coach Logan did with him. Then, his talent took over on the field.
Gannon: Tell us about Josh Freeman. He's only thrown six interceptions. For a second-year player, that's incredible in this football league. What is it with his decision-making?
Dominik: He has phenomenal pocket presence when the rush is coming at him. Plus, he has the ability and the size to see downfield and deliver the ball when the pressure is on him. He has the size and ability to keep an eye downfield and run through his progressions. That's phenomenal for a young player.
Schein: Mark, you deserve a lot of credit for choosing Mike Williams and LeGarrette Blount. A lot of teams weren't going to touch either. Take us through how you decided to choose these young men and about how they exceeded all expectations.
Dominik: With Mike, we spent a lot of time on the phone with his head coach. That guy, Doug Marrone, knows him well. We scouted him well and brought him into the building and spent an entire day with him. We spent as much time with him as we could at the combine. We talked to his high school teachers and his high school coaches and he again proved it [Sunday] what a dedicated player and a hard worker he is. On one of LeGarrette Blount's runs, you see Mike 50 yards downfield blocking a safety. There's no quit with this guy. Same with LeGarrette. We brought him in, did our homework where he grew up, talked to [Oregon head coach Chip Kelly] and his high school coaches who spoke highly of him and his play speaks volumes.
Gannon: What you guys have done is impressive just on the offensive line alone. The only starter still there is Donald Penn. Yet you can still protect your quarterback and still run the ball.
Dominik: Yeah, we have had so many injured players, something like 15, and the young guys have really stepped up. It's next man up. When players see a new guy coming in, the mentality is, "Hey, this guy can help us." It's a special mentality.
Schein: You have referenced Raheem throughout the interview. Right now, he has done a great job. How has he done so well this year and should he be the coach of the year?
Dominik: I firmly believe it but I am with him each day. He has had a lot to work through. He had the youngest team in the league. He's had to deal with adversity in injuries. He's had to deal with a second-year quarterback and being able to keep the guys motivated. Last year was very hard, frustrating. But the thing was, [the players] still played hard. That was very important because I thought that would carry over. What he has done, with that roster, tells me he's the right guy for this job.
Gannon: Mike Williams is such a great guy. He received some criticism but you did a good job developing him. If Mike goes to a different team, he may not have the same results.
Dominik: Eric Yarber is our wide receivers coach and we brought him in this year. We knew he was a good receivers coach. He worked with Chad Johnson before he was OchoCinco. He worked with T.J. Houshmandzadeh. He knew how to grab Mike Williams' and Arrelious Benn's attention. The big thing we do here is fundamentals and coach Yarber is a huge reason why we have had success.
Schein: I love how you talk about the draft. When we spoke after the draft, as a GM and an executive, this has to be an outstanding feeling. You are building through the draft and it has shown through practices and games.
Dominik: I agree but you have to credit Dennis Hickey. We saw how talented the draft class was last year and that was our philosophy: Let's use this draft class, as talented as it was, throughout the season. Then our second draft was picking up guys that were cut. Our scouting department should get the credit.
Gannon: Who do you pull for Monday night? When is the last time you pulled so hard for the Falcons?
Dominik: My wife doesn't know what jersey to wear, Matt Ryan or Drew Brees. I'm just glad the NFC South is on TV tonight. For whatever reason, we don't get on TV too much. No matter the outcome, we have something to play for next week at New Orleans.