Penn, Freeman, Winslow Get Consolation Prize
December 29th, 2010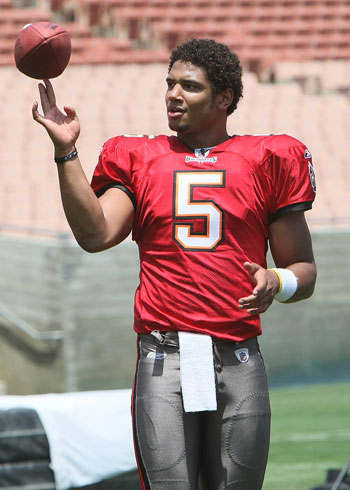 To nobody's surprise no Buccaneers were named to the Pro Bowl squad, which was unveiled last night. But that doesn't mean you won't see any of them playing meaningless football a week before the Super Bowl.
Donald Penn, Kellen Winslow and Josh Freeman were named alternates for the NFC team. So if one of the Pro Bowlers bails on the game, then they'll fill in at the respective position.
Drew Brees, Matt Ryan and Michael Vick made the NFC squad in front of Freeman, so it's a good chance Freeman will go to Hawaii. It's likely that one of the quarterbacks will be going to the Super Bowl, which means they'll skip Pro Bowl.
While Joe wouldn't want to see Freeman get hurt, playing in the Pro Bowl can only help his confidence and maturation, and earn him even more respect from his teammates. 
Joe, who hasn't watched a Pro Bowl in ages, might even tune in for that.