NFL Says Sorry For Heinous Officiating
December 22nd, 2010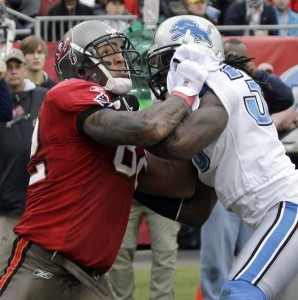 It seems the NFL has poured salt in the wounds of Bucs fans.
The honchos at the league apparently have admitted that zebras fleeced the Bucs when a touchdown was stripped from Kellen Winslow after an offensive pass interference call, so reports Rick Stroud of the St. Pete Times.
"They apologized," said offensive coordinator Greg Olson. "We've had a number of those this year. It's real discouraging. We've played some tight games, but you can't have those kind of mistakes. It's disappointing, obviously. 
"Now, it wasn't the only play in the game, but it was a critical one at a critical time."
Thanks guys. Thanks for having a crapass officiating crew that somehow didn't catch the look in the photo above with the Lions' defender completely ignoring the ball in the air. 
Really sickening stuff.