Mark Dominik's Shining Moment
December 8th, 2010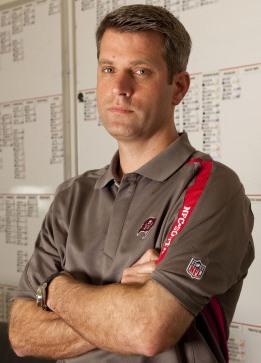 The Bucs are on the outside looking in for the playoffs, as crazy as that sounds thinking back just a few short months.
The Bucs are still in the hunt for a wild card without Jeff Faine, without Davin Joseph, without Aqib Talib, without Tanard Jackson. That's because of the eagle-eye of Bucs general manager Mark Dominik.
Veteran sports columnist Gary Shelton shakes his head in amazement at the relative nobodies keeping the Bucs' collective heads above water with all the injuries.
In a secondary that has been stripped bare, they are much of what is left. They started the season as afterthoughts and backups. These days, they are Ronde Barber's playmates, and it is their job to protect the end zone.

The Bucs' season has come to this, to an assortment of B-teamers and second-chancers trying to keep the improvement going as starters continue to limp away. They are former waiver-wire warriors and practice-squad graduates and late-round draft picks and other teams' leftovers.

These days you have to wonder if even general manager Mark Dominik has to refer to his depth chart before he recognizes some of the Bucs on the field.
This is why Joe refers to Dominik as a "rock star." The guy is well on his way to becoming the next Scott Pioli or a football version of Whitey Herzog, a guy who can find dudes walking the street nobody has heard of before outside of their immediate families, plug them into roles and get solid production out of them.
If Raheem Morris is to be the NFL coach of the year — and he should be to this point– so too should Dominik be awarded the executive of the year.