LeGarrette Blount Opens Field For Josh Freemam
December 26th, 2010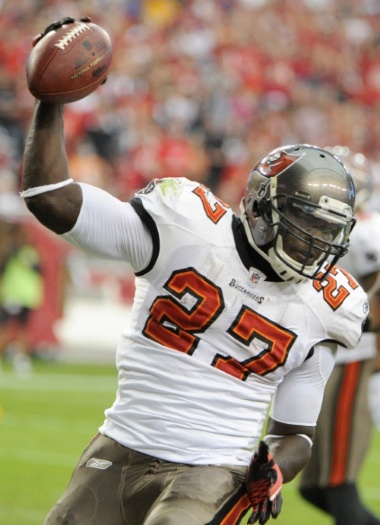 Josh Freeman tied a franchise record today with five touchdown passes.
He can thank LeGarrette Blount for that.
Sure the receivers had to catch the damn ball and Freeman had to have sufficient time to throw the ball but much of the credit can go to Blount.
In the second half when Freeman would fake a handoff to Blount, use a play-action-pass, the Seahawks linebackers reacted as if Joe just found Rachel Watson knocking on his door.
In other words, they froze like an Alaskan snowball.
This allowed the Bucs receivers to get wide open. Wide freaking open.
This was because Blount was running wild on the Seahawks defense, rumbling, stumbling, hurdling over would-be tacklers. The Seattle defense had to adjust, had to prepare, had to concern themselves with the Bucs running game, specifically Blount.
It's no coincidence that the Bucs best offensive outbursts this season have come when Blount blugeoned defenses. It's elementary football: When the a running game excels, it opens up an entire field.
Perhaps the Bucs coaching staff learned a lesson the hard way last week? Perhaps the Bucs coaches learned that Blount needs to be on the field, needs to get the ball early and often?
When Blount runs, the Bucs win.