Give LeGarrette Blount The Damned Ball!
December 23rd, 2010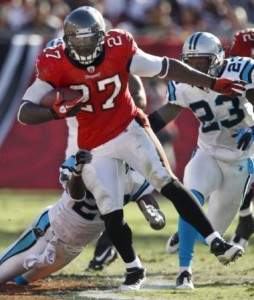 Joe's good friend Justin Pawlowski of WDAE-AM 620 and the host of the critically acclaimed "Blitz" heard sometimes on Saturdays has had it.
He's had it with the Bucs babying LeGarrette Blount. He's had it with the Bucs making excuses for not giving him the ball. He's had it with the Bucs benching Blount in critical times of a close game.
In short, Justin believes Blount should be used as a weapon, not an experiment. And used early and often in a game, so Justin wrote on his blog found on the WDAE-AM 620 website.
Raheem said that ball security was the reason Blount was on the bench. Hey coach, the only reason your team was in position to win was because of Blount. Also, it's not as if Blount is a fumbling machine. According to NFL.com, yahoo.com, and profootball-reference.com, Blount has fumbled just twice on 164 attempts. This isn't a matter of Blount's ball security, this was a matter of a coach losing his balls! Also, how about coaching up your 250 lb. back to run in short yardage. Who knows, maybe with a little coaching, your 250 lb. back could also be your goal line back. Stop over-thinking things with Blount and have faith in the guy!
Wow! Told ya' Justin has had it with protecting Blount.
Pawlowski does have a very valid point: The Bucs likely would not be sniffing the playoffs without Blount. When he became a regular part of the offense (Arizona game), the offense blew up because defenses now had to worry about the run.
Blount also made Cadillac a better back as well.
At risk of speaking for Pawlowski, Joe believes entering the 16th week of the season, a rookie is no longer a rookie.