Faine's Got A Tricep Injury
December 5th, 2010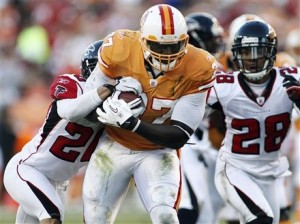 Last year Jeff Faine tore a triceps muscle and Bucs fans were subjected to Sean Mayhem playing matador at center.
An ugly memory, for sure..
Today in the loss to the Falcons, rookie Derek Hardman got his first action at right guard when Faine went down in the second half with another triceps injury, so it was reported on the Buccaneers Radio Network.
Jeremy Zuttah, the starter at right guard for injured Davin Joseph, moved to center and Hardman came in.
LeGarrette Blount didn't have another good run.
Before that, the Bucs didn't miss a beat in the running game with Zuttah at right guard and Blount getting a 100-yard day.
Joe's not sure the Bucs can recover from yet another injury and subsequent change along the offensive line. If Faine's done for the year, the Bucs are in trouble.