Don't Expect Ronde Barber At Safety
December 2nd, 2010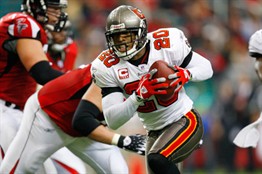 Though Bucs coach Raheem Morris has hinted he may dabble with longtime cornerback fixture Ronde Barber at safety, don't get caught up in the hype Woody Cummings says.
The Bucs beat writer for the Tampa Tribune suggests the hints dropped by Morris are nothing more than gamesmanship, that Barber will remain at his familiar cornerback position.
The Buccaneers thought about it. Then they thought better of it. Cornerback Ronde Barber will not be moving to safety to take over for injured rookie starter Cody Grimm. Not just yet anyway.

"I'll only go back there in case there's an emergency," said Barber, who constituted an emergency as "Corey or Vince going down."

Corey would be third-year safety Corey Lynch. Vince is first-year safety Vince Anderson. One of them will start this week ahead of Grimm, who was lost to a lower left leg fracture during the Bucs' 17-10 loss at Baltimore on Sunday.
From what Joe can piece together, it appears Morris, whose specialty is the secondary, is going to try all sorts of different looks and personnel in the defensive backfield, given the various particulars of the game.
While Joe thinks it would be smart to put Barber at safety (it prolonged Ronnie Lott's career by years), apparently the Bucs think moving Barber is too much of a risk for an already thin secondary.