Corey Lynch Could Be An Upgrade
December 2nd, 2010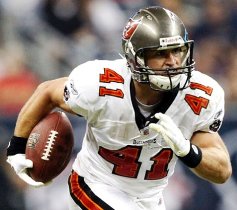 Well, the mystery of who will replace Cody Grimm at safety is still very much a state secret not even Wikileaks has been able to crack.
The Bucs had floated the possibility of Ronde Barber moving to safety but that has since been shot down. That could leave backup Corey Lynch.
A fantastic special teams player who was an absolute ballhawk in college, it could be that Lynch is on the field when the Bucs defense faces the Dixie Chicks Sunday.
And that is all right with Steve White. The former Bucs defensive end who writes the must-read blog "Passing on the Game," White actually believes Lynch on the field will help the Bucs in pass coverage.
Lynch isn't the hitter that Grimm was in my opinion but I think he has better ball skills. While the Bucs may give up something on defense when Atlanta is running the ball, I think they might gain something when they try to pass it.
Granted, the NFL is far from college, especially Division-IAA, where Lynch, a Fort Myers native, played at Appalachian State. There Lynch was a freaking force on defense.
While helping Appalachian State to a three-peat (three consecutive NCAA titles), Lynch holds the NCAA FCS record for passes defended at 52 (28 pass deflections, 24 interceptions) and finished his collegiate level play with 358 career tackles.
And we all remember what Lynch did against the Malaise and Blue.