Dominik Talks Scouting, Marty Schottenheimer
December 30th, 2010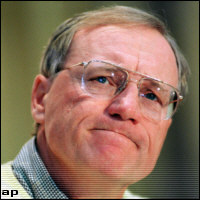 Sitting down behind a radio microphone for some back and forth with fans on WDAE-AM 620 Wednesday night, Bucs rock star/general manager Mark Dominik was at ease talking about a variety of topics.
He even seemed genuinely sad his one-hour session was ending, saying he could talk Bucs football with fans for hours. 
Dominik touched on his scouting philosophy, among many other topics.
He explained what he and his staff studied on film was at the core of the sweeping personnel changes that took place before the 2009 season. Dominik explained why Ronde Barber made the cut and how he values film above all else when scouting a player.
"We really felt like Ronde Barber was playing good football for this football team. And he certainly has two years in a row now. You can't tell me whether Ronde is 35 or 30 if you watch him on the football field," Dominik said.
"They always say the eye in the eye in the sky doesn't lie. And I'm a big believer in that. To that point of, you know, I'm not a great believer in going to pro days when it comes to college. …

"I want to sit back at home. I want to sit back at my office. I want to watch more tape. Because if the guy runs 4.74 at the combine, but plays 4.64, I really don't care what he ran at the combine. And so I try to stay away from those things trying to influnce my opinion of the player or our opinion of the player."
Dominik went on to explain that he doesn't focus on what system a player is in at college. Although he said Josh Freeman was an exception because he was groomed in more of a pro-style offense at Kansas State and the team thought that would help him adapt to the NFL easily.
So what's Dominik's priority when scouting a player?
"Athletic ability plays into it dramatically. That's a knee-bender, a guy that can really drop his weight. Those kinds of things and leverage," Dominik said. "The decisions to draft Arrelious Benn and Mike Williams and certainly to claim LeGarrette Blount were those guys make huge yards after contact. 

"And it's such a hidden yardage in the National Football League. Those and special teams yards are the two biggest hidden yardages and really can determine the outcome of a game.  It's after the initial contact, how much strength can they fight through a tackle to get five, 10, 20, whatever it is. Those are kind of the traits I really look at when I watch a player.   That's the same thing for a tackler … real functional strength on defense as well, in terms of how physical they were, how much strength and power they brought into their tackles, how many yards did the opponent get after they hit them. So we really look at athletic ability and functional strength."
As for his early days in the Chiefs organization, Dominik said Marty Schottenheimer taught him to value what a receiver does after an interception because it shows the intesity of the player.
Dominik said Mike Williams had three tackles after interceptons last season in limited time at Syracuse. "That shows you a really competitive young man."
Joe will bring you much more of Dominik's comments through the day.