Cryptic Messages From Arrelious Benn
December 27th, 2010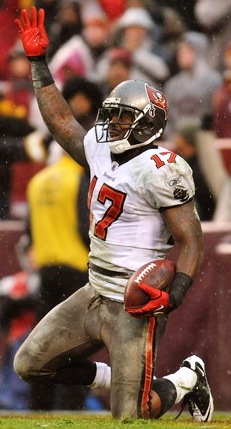 Seems as though Bucs wide receiver Arrelious Benn, who suffered an ugly injury to his left knee, may be out for the season.
Or maybe not.
That's the mixed messages Benn seems to be sending out on his Twitter account about his injury.
Roughly two hours after the game, Benn wrote — if one is to read between the lines — that he's perhaps gone for the season.
Yea I'm on the shelf right now. I'll be back. going to come back even better people I promise you that! I'm a dog nothing is going to stop me but me. Bucs baby!
Moments later, Benn seemed to do an about-face, admitting he does not know the severity of his injury.
Took a hit to my knee. Don't know how bad it is will find out tomorrow
So as Joe suspected earlier, we likely will not know if Benn is done for the season until Raheem Morris meets the press.