Coaches Don't Know How To Finish Games
December 7th, 2010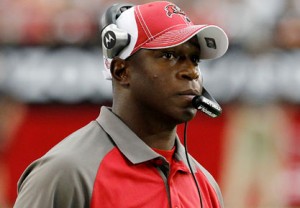 The Bucs had the game won. Had it! It was in the grasp of their sweaty palms.
But no. Matty Ice. He leads the Dixie Chicks on a late touchdown drive to beat the Bucs after the Bucs had a 10-point lead in the fourth quarter.
A lot of fans are upset with Mo Stovall for not getting a tackle on a 102-yard touchdown return. But Joe's good friend Justin Pawlowski doesn't blame Stovall nor any of the Bucs players for the fourth quarter collapse.
Rather, Justin, the WDAE-AM 620 host of the critically-acclaimed "Blitz," sometimes aired on Saturday afternoons, points the finger at the Bucs coaching staff in "What I Learned About The Bucs" on his blog at 620WDAE.com.
I learned that the Bucs coaching staff does not know how to close out games yet. So much has been made of the players not closing this game out, but I was unsure about the coaching in the 2nd half that led to the Falcons come back. Obviously, the play that sticks out is 3rd and 20. I understand that the Bucs were in cover 2 and that is made to prevent plays like 3rd and 20, but enough with the 3 man rush. When you have a chance to step on a team's collective throat, you do it! 3rd and 20 was a prime spot for an all out blitz. You force Ryan to throw the ball before his WRs can even get 20 yards down the field. Instead, you give Ryan all day to throw and he finds Roddy White open for a 24 yard gain. Inexcusable! Offensively, I respect the creativeness by Greg Olsen, but I thought the Bucs offense was starting to really get an attitude a couple games ago and with all this recent tricky stuff, I think they've lost that attitude. Those are just a couple of examples of how the coaching staff would've assisted their young team into closing this game out.
EXACTLY! The absolute last thing you want to do is give Matty Ice all the time in the world to sit back in the pocket and allow his receivers to get open and that's just what the Bucs did.
Put pressure on the quarterback! When you are dealing with a dropback thrower like Matty Ice, this is simply elementary football. Going to a three-man front is basically a prevent defense and we know that prevent defenses prevent you from winning.
Playing not to lose often means you lose. The Bucs lost Sunday.