Who Is Reading Steve White's Blog?
November 13th, 2010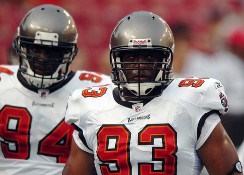 As one local member of the Bucs press corps texted Joe Thursday afternoon, "Steve White tells it like it is."
The former Bucs defensive end has keen interest in the Bucs, the Bucs defensive line, and in particular Gerald McCoy. The struggling Bucs rookie defensive tackle is starting to come under criticism from some sports radio talking heads and White has kept a watching gaze as to how the Bucs are handing his development.
White devours just about anything written about the Bucs. In his latest post on his blog "Passing on the Game," White has a hunch there are certain eyes that are monitoring his blog and he believes he has some evidence of such.
But in particular, White focuses on how GMC is being coached up and, to be succinct, White believes someone on the defensive staff is dropping the ball, in so many words.
Here's the truth, Ive watched every game and I don't think any team has changed their pass protection rules because of McCoy. In fact I'm about as close to being sure of it as you can get next to sitting in the offensive line meeting rooms of the opposing teams. But if you don't know what the opposing team protection scheme is and you keep sending McCoy to the side where the center is already supposed to slide, then yeah I guess he WILL keep getting double teamed.
White's post is explosive and not too kind on the Bucs defensive staff. Joe strongly encourages his readers to educate themselves and read White's post in its entirety.