"Welcome Back, Cadillac"
November 16th, 2010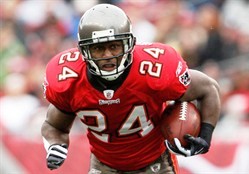 Though the touchdown only was relevant for gamblers, Cadillac Williams' 45-yard run to seal the win over the Panthers was the feel good story of the week.
Even if Joe tried to find one, it's highly unlikely that there are any Cadillac haters. Sure, fans were frustrated that he has seen his better days but Joe can't fathom anyone wishing Cadillac ill will.
His touchdown run Sunday was sort of a flashback to his rookie season where there was so much hope for the Auburn star. It even warmed the heart of good guy Maoist Michael Silver who waxed poetic about Cadillac in a recent Yahoo! Sports column.
I've been an unabashed Cadillac Williams fan since our pre-draft breakfast at the Gadsden, Ala., Waffle House in 2005, and after about five minutes of watching the ferocity with which the former Auburn back ran as a Bucs rookie, I was convinced he was headed for stardom. Alas, Cadillac has been in the shop far too much during his six-year career, and it has taken inordinate amounts of drive, perseverance and courage for him to fight back from a pair of devastating patellar tendon tears in consecutive seasons. That's what made Williams' game-clinching, 45-yard touchdown run in Tampa Bay's 31-16 victory over the Panthers so momentous – it was his longest carry since he took a 71-yarder to the house in his first NFL game. Welcome back, Cadillac.
Perhaps this is a sign of things to come later this season? LeGarrette Blount is the key rushing weapon, there's no denying that. But perhaps Cadillac can come in late in the game and deliver some more punishment when linebackers have had their fill of wrestling with Blount all afternoon?