Warrick Dunn "Proud" Of Atlanta Win
November 8th, 2010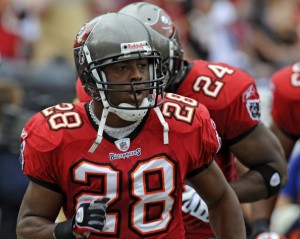 There are few Bucs players, former or present, who Joe looks up to and respects more than former Bucs running back Warrick Dunn.
Why, the little guy with a big heart is such a good guy, Joe chose his number to represent when Joe was designing a logo for this very site (what, you actually thought Joe was choosing a logo influenced by Kardashaian-chasing Derrick Ward?).
So Joe was shocked to read last night on Twitter that Dunn, who means so much to this area not just as a football player but as a citizen, took to keyboard and bragged how pleased he was with his Dixie Chicks.
@WarrickDunn: Proud of my team, Falcons win!
Wha, what!? Did someone hack into Dunn's account? Was he that disturbed that his Seminoles looked so wretched against North Carolina the previous evening? This is a moral outrage!
But then Joe got to thinking: Dunn played exactly half of his NFL career with the Dixie Chicks. It finally dawned on Joe that Dunn is in fact a limited partner/minority owner with the Falcons.
So Dunn has a reason to call the Dixie Chicks "my."
Despite this evidence, it still depresses Joe. Hard pressed to find a better guy who played for the Bucs than Dunn.
Since Dunn still helps single mothers in the area purchase houses for their families, Joe will look the other way on this insult to Bucs fans.