The Cursed Class Of 2007
November 16th, 2010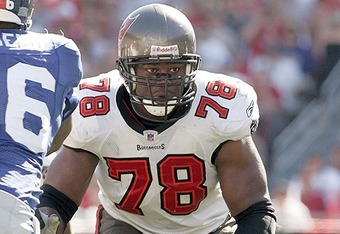 Joe was reading an article by noted Tampa Tribune columnist Martin Fennelly who typed a touching story about how the Bucs are heartbroken over the declining, troubling health of former Bucs lineman Arron Sears.
Sears was arrested Saturday on an outstanding felony warrant for roughing up a cop. He was found "confused" and wandering the streets of Tampa.
The latest episode of Sears and his troubled mental state is hardly news. It's why he's not in the NFL much less playing for the Bucs. But what caught Joe's eye reading Fennelly's piece was how cursed the Bucs draft class of 2007 has become.
First round: Gaines Adams, dead.

Second round: Arron Sears, unable to play.

Second round: Sabby, back-up and special teams player.

Third round: Quincy Black, starting but with mixed results.

Fourth round: Tanard Jackson, gifted but has pretty much smoked his way out of the league.

Fifth round: Greg Peterson, out of work.

Sixth round: Adam Hayward, backup.

Seventh round: Chris Denman, out of work.

Seventh round: Marcus Hamilton, out of work.

Seventh round: Kenneth Darby, playing for the Rams.
Man, that's just sad. Fennelly was absolutely correct. What a star-crossed draft class. Man.