Ronde Barber: Hall Of Famer
November 21st, 2010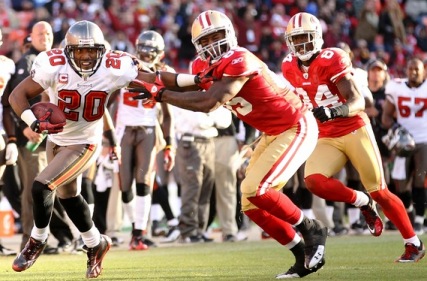 Bucs cornerback Ronde Barber continues to build a Hall of Fame resume grabbing his 40th interception earlier today, yet another milestone in his brilliant career. He also has 26 sacks. No other NFL player with that many interceptions has that many sacks.
He spoke on the Bucs radio network after the game and reflected on one of the more impressive Bucs wins in years.
"The win is huge. Much was made about us not being able to win out here. It was a game we should have won. We had Troy [Smith] in trouble all day and later we were able to finish it off. It was a banner day for our defensive line. We had eight sacks coming in and we had six today. That's huge for us. It sets the tone for the rest of the season. It feels good. It's a really fun victory for us.
"That interception was one of the easiest of my career. [Smith tried] to fit one down the sideline. If I don't make that pick I'm not doing my job. It put the nail in this deal and set up Donald Penn's [laughs] touchdown catch."
On winning on the road:
"We find ways on the road. Rah has handled this team in a very mature way. he is not babysitting. He treats us like adults. Nothing this team cannot accomplish.
"It was a dominating performance. We stopped the run and there wasn't much of an option in the passing game. Troy didn't have as good of a game as he did last week."
There are many future Hall of Famers who played on the Bucs defense that past decade. Derrick Brooks is a lock. So too should be Warren Sapp. John Lynch, probably. Simeon Rice, maybe. So too should Ronde Barber.
It just drives Joe wild when he hears naysayers spout that Barber is a system cornerback. No s[p]it Sherlock. Barber nor any NFL player gets to choose what type of a "system" they play in when they are drafted. It's how they play which is what matters. Joe Montana was a system quarterback. Lawrence Taylor was a system linebacker.
Only a colossal hater of the first order would keep Barber out of the Pro Football Hall of Fame for being a "system" cornerback.
Barber played the position as well as could be played over many, many, many seasons. Why punish him?