Bucs-49ers Highlights
November 21st, 2010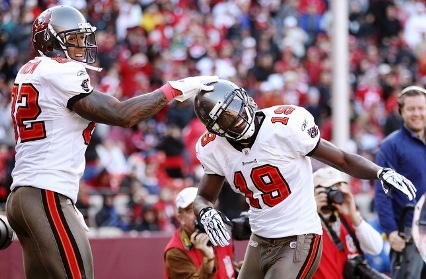 Joe's bringing you loads of highlights from the improbably Bucs shutout win in San Francisco today, all courtesy of the good people of the NFL Network.
The Bucs get a sack!
And another one!
And another one!
And yet another!
Cadillac Williams rumbles for 26 yards.
Ronde Barber grabs his 40th career interception.
Donald Penn becomes a hero.
The Bucs force the 49ers off the field on fourth down.
The 49ers again can't get the job done on fourth down against the Bucs.
Mike Williams hauls in a touchdown pass as he wrestles with a defender.
LeGarrette Blount runs for 16 yards.
Big gain as Josh Freeman hooks up with Williams.
Cadillac Williams scores his second touchdown in as many games.
Adam Hayward recovers a fumble.
More Donald Penn jocularity.
All the Bucs highlights in one video.
More highlights from Ronde Barber, Mike Wiliams, Mike Williams, Cadillac and another look at Hayward's fumble recovery.
Raheem Morris' postgame press conference.