Raheem Says "Mentality Before Reality"
November 1st, 2010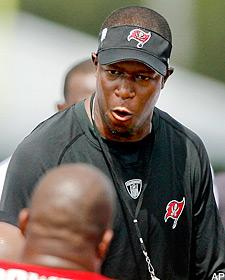 Joe's played on enough sports teams and lived enough of life to know the power of visualization and believing in one's abilities.
If you don't feel the goal, see yourself obtaining it in your head 1,000 times and attack it relentlessly, there's little chance of success.
From Muhammad Ali, perhaps the best self-motivator of all time who was The Greatest before he was champion, to Deepak Chopra's "field of all possibilities" and countless great sports coaches across America in between, they all harnessed and preached the power of visualization.
And that's essentially what Raheem Morris is doing now by keeping his foot on the pedal of the "best in the NFC" chatter.
During his news conference today, Raheem explained further that he is pushing "mentality before reality." When Joe heard of this one-liner, it drove Joe nuts because he recognized the mantra but couldn't remember from where.
Via the magic of the Internet, Joe realized it came from Raheem himself, shortly after getting the Bucs job.
During the lead up to the 2009 Super Bowl, Lakeland Ledger Bucs beat writer Rick Brown wrote a feature about young Mike Tomlin coaching the Steelers and Raheem talked about his friend and mentor.
"His attention to detail," really influenced me," the new Bucs coach said. "The way we set up pretty much our lesson plans, the way we got our message across, (the) different teaching styles that he taught me.

"It's always mentality before reality. Mike Tomlin has been coaching Super Bowls for years in his own mind. Right now, he just made it a reality for himself. We just believe in that. That's what he instilled in me and, of course, he's had it already, a little bit of that swagger we talked about before."
Joe's all in favor of what Raheem's doing. It's a personal development method that, from reading above, is obviously part of his core beliefs. And if you're going to sell this kind of mindset to you team, you might as well put your balls on the table and take it to the media.
Joe's just not sure Raheem will know precisely how to handle it effectively when/if the Bucs lose a game and are no longer the "best in the NFC." That's probably his next great challenge in the locker room.
As for the Falcons' getting their jock straps all twisted over the Bucs being the "best in the NFC," so writes Woody Cummings of the Tampa Tribune, Joe thinks this is more of a distraction for Atlanta than a motivator. They should be far more worried about LeGarrette Blount and Josh Freeman.
Right now, Joe's visualizing Rachel Watson joining him to watch Monday Night Football and asking to meet all of Joe's halftime needs.
Mentality before reality.