Jeremy Trueblood Will Not Get Wally Pipp'ed
November 2nd, 2010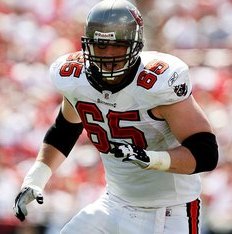 Joe decided to take a brief moment from his grueling day banging on a keyboard to enjoy Raheem Morris' radio show, heard exclusively on the Bucs radio network, locally in the Tampa Bay area on WDAE-AM 620.
During the show, which accepts callers, one Bucs fan was giddy like Joe and other Bucs fans about the play of right tackle James Lee in the win over the Cardinals, who was starting in place of injured Jeremy Trueblood.
The caller asked Raheem if Lee's play meant that Trueblood will be sitting on the bench when he is healthy to suit up again.
That's not happening, per Raheem.
While waxing poetic about the play of Lee, Raheem quashed any rumors of Trueblood losing his job when Raheem said emphatically that "Jeremy Trueblood is our starting right tackle."