Raheem Morris Has Aqib Talib's Back
November 18th, 2010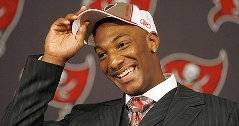 Earlier this week Joe brought word of the high irony of the Carolina Panthers, a team which has committed assault and battery both on the football field and among themselves, whined that Aqib Talib had what they perceived as an illegal hit on rookie quarterback Jimmy Clausen.
Clausen was trying to score a touchdown late it the game when he was stopped by Talib. Clausen received a concussion in the hit and likely won't be available this Sunday.
The Panthers, John Fox in particular, cried and thus far the NFL has turned a deaf ear though Fox is doing his best to see that Talib is fined, or worse.
Well, hearing the wails of Fox, Bucs coach Raheem Morris took to the microphone and had Talib's back, reports cool cat Joe Smith of the St. Petersburg Times.
"When we play our game, our job is to not let people score," Morris said. "My guys play within the confines of the rules; we go out there, we play. I know the league right now is emphasizing concussions, but you've got to understand, the league is trying to protect defenseless players, not guys trying to score a touchdown. When you run sneaks and those things, people get hit. It's a violent football game."
Joe just thinks it's beyond rich that of all teams to whine and bellyache about perceived illegal hits, it's the Panthers. Again Joe asks, where was their outrage when one of their own all but ended the career of Clifton "Peanut" Smith with a filthy hit?