Programming Note
November 24th, 2010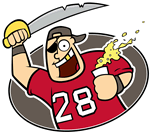 Thanksgiving is tomorrow, and you better believe Joe will be working.
JoeBucsFan.com delivers for Bucs fans 24/7. There's a reason why Joe has become the premier can't-miss Bucs site.
In addition to a Thanksgiving greeting from an old friend, Joe will churn out the usual Bucs news, fun and nuggets, plus chatter out of Baltimore. And readers will get takes from THE OPTIMIST and former Bucs QB Jeff Carlson.
So remember to put Joe in your Thanksgiving plans. And while you're at it, follow Joe on Twitter, and get in the mix to win Aqib Talib jerseys.