Plenty Of Fixes Available For D-line
November 9th, 2010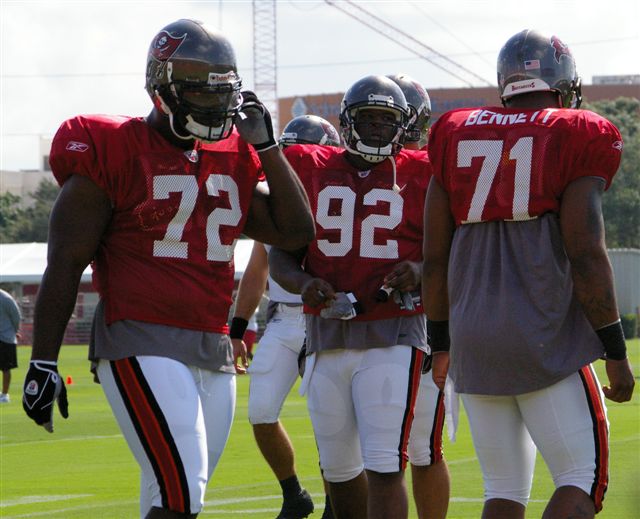 Joe advises you to score a fat sandwich and settle in to read former Bucs defensive end Steve White's Bull Rush column on his Passing on the Game blog.
White always writes in great detail about the Bucs defensive line, but his most recent entry is long, detailed, very pointed and really a must-read for anyone who calls himself a hardcore Bucs fan.
Joe's not going to spoil it for you. But Joe suspects Bucs defensive line coach Todd Wash won't be sending out links to White's takes anytime soon. Here's an excerpt:
(If you need a sandwich referral, try Mugs Grill and Bar in Clearwater or Honey's in Tampa.)
As for pass rush games, the Bucs look worse than most college teams trying to run them. I won't lie, it drive me nuts every time I see a defensive end take just two steps up field and then come underneath on a TEX game. That's harry high school bullshit and they might as well not even run the game rather than running it so poorly that they give up containment like they did against the Falcons.

So far I haven't seen the Bucs run a TOM game with the two inside guys which you would think we would do to try to help McCoy get free. Of course that would be a little too much like right. Better to just keep sending him out there with no plan and hope for the best.

People keep talking about Ndamukong Suh and comparing McCoy to him unfavorably. But if you ever watch the Lions play the one thing you notice is that they are constantly trying to showcase his talents. First and foremost he rarely moves from his left defensive tackle spot which means his development has been building every week. But when he DOES move its because they are trying to get HIM free so he can wreck shop. And oh by the way he has two pretty good pass rushers at end starting with him and they all haul ass every play at the snap of the ball.

The Bucs on the other hand have been too busy trying to showcase Quincy Black at the expense of McCoy's development, to try to design any defenses for him to have a favorable match up.

Look, I like Black and I think he is a really good player, but this defense will be built around Gerald McCoy for the next 10 years if the Bucs are lucky. And that should have started THIS year. Again that's something a good defensive line coach would have been fighting for.

If the Bucs want to get better at pass rush enough to make a difference the one place that they can make the most gains is pass rushing on early downs. Its a lot harder to get sacks, at least in theory, on third downs when the offensive linemen are more alert for moves and when quarterbacks are more apt to get the ball out of their hands quickly. But on early downs offenses tend to run a lot of play action which takes longer to develop and also can make for a harder block for an offensive lineman trying to sell run.

So how can we take better advantage of that?

Start Michael Bennett at left end.
Joe has long been in favor of starting Tim Crowder or Michael Bennett over Kyle Moore, who was gift-wrapped the starting left end job.
Crowder's got the better motor and an extraordinary work ethic, plus 9.5 career sacks. Bennett has a big get-off, the best raw talent and a track record of making plays. Moore hasn't done much and at 24 years old is only a year younger than Bennett and Crowder.
Joe hopes the Bucs aren't favoring Moore simply because they drafted him.