Playoffs?
November 15th, 2010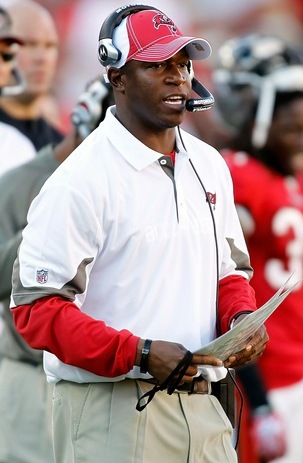 It's a bit too premature to talk playoffs but that hasn't stopped Charles Robinson of Yahoo! Sports to write about playoffs, specifically the Bucs in the playoffs.
Robinson wrote late last night that the win over the Panthers puts the Bucs in the playoff chase.
After Sunday's win over the Carolina Panthers, you look at the schedule and start to see some wild-card potential for this team. Could they still win the NFC South? Absolutely. Do I think it will happen? No. Not with the Buccaneers' wins all coming at the hands of teams that have losing records. But when you look at the schedule, the road games against the Ravens and New Orleans Saints and the home tilt against the Atlanta Falcons look the toughest. Everything else is very soft. Sitting at 6-3, 10-6 is within reach, and so is the postseason.
Well, here's Joe's take on this: Sure, the Bucs mathematically are in the playoff hunt but that loss to the Dixie Chicks hurt and may come back to haunt the Bucs.
Had the Bucs beat the Dixie Chicks, Joe thinks playoffs would very much be in play. Now, the Bucs must win the games they should win. We all know that there are upsets in the No Freaking Logic league.
This is not to say the Bucs cannot make the playoffs, but it's a tightrope walk. There cannot be any slip-ups. The Bucs cannot be upset and it may take a win over New Orleans to ensure a playoff berth.
Surely the Bucs should get to nine wins. Joe thinks 10 wins is reachable. It may take 11 wins to get to the postseason.