Offense About Ready To Break Out
November 4th, 2010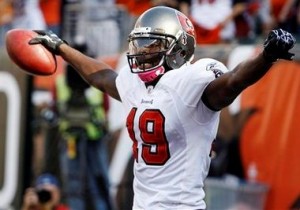 Joe remembers the days of Father Dungy, when fans at the CITS drank twice as many (or more) beers than the Bucs made first downs.
It was neanderthal football. Sid Luckman rolled in his grave. It was nearly irresponsible football, asking the great Bucs defense to both shut out the opposing team, and try to score points.
Bucs linebacker Barrett Ruud knows there is a lot of pressure on the Bucs defense. So he could breath a sigh of relief when he saw what could be a glimpse of the future when the Bucs offense opened it up against Arizona, so documents Roy Cummings of the Tampa Tribune.
With quarterback Josh Freeman's penchant for staging fourth-quarter rallies and a quick-strike capability emerging on offense, a sense of contentment has begun to grow among the players on defense.

"It's comforting," Ruud said of the offense's newfound ability to score regularly and carry its share of the responsibility for winning. "It's something I haven't had in a while."
Joe has written this before, but he was more than geeked over what the offense looked like, and may look like at Atlanta Sunday. The addition of LeGarrette Blount has completely opened up the offense now that defenses actually have to concern themselves with a run.
The Bucs offense, with Mike Williams and Arrelious Benn and Kellen Winslow, really has a chance to blow up like we've never seen before.
Bring on Sunday!