Mike Williams Arrested For DUI
November 19th, 2010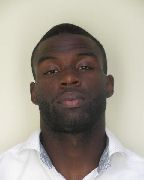 Noooooo.
Bucs stud rookie receiver Mike Williams was locked up by authorities this morning after a 2:48 a.m. arrest for driving under the influence near the intersection of 301 and Causeway Blvd. in Brandon.
Here's the Hillsborough County Sheriff's report: While the report says Williams' blood alcohol tests were below the legal limit (.065 & .061), Joe's experience covering law enforcement tells him Williams could have failed field sobriety tests or the police suspect he was high on another substance. The report says "pending urine" but Joe is unsure whether Williams submitted to a pee test.
All that said, it is beyond Joe why a rich young football player wouldn't take a limo in the wee hours after enjoying some hard-earned adult beverages.
Jeez. Joe's partners at Paradise Worldwide Transportation will take anyone home in a limo in and around Hillsborough and Pinellas counties for only $69 one way, often cheaper than a cab.
Williams may be technically innocent of these charges, but it's heinous judgment to be cruising around town just before 3 a.m. …Joe doesn't care how fine the piece of ass might be.
Call for a ride.