Bucs Best Offseason Move: Signing Alex Van Pelt
November 19th, 2010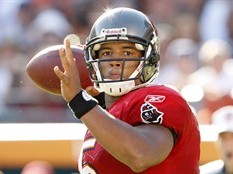 Several offseason moves made Bucs general manager Mark Dominik a virtual rock star inside NFL circles.
There was the thievery of drafting Mike Williams in the fourth round. There was snagging Arrelious Benn in the second round. There was scooping up Cody Grimm in the seventh round.
But an argument can be made that signing Alex Van Pelt as the Bucs quarterback coach was the most important of all.
Under Van Pelt's tutelage, Bucs quarterback Josh Freeman has skyrocketed to enter the conversation of NFL Offensive MVP. Joe even remembers interviewing Peter King at the Super Bowl where King stated hiring Van Pelt was a stroke of genius.
This move is also not lost on eye-RAH! Kaufman of the Tampa Tribune who believes it was Dominik's sharpest transaction as Kaufman Twittered on the TBO Bucs Twitter feed.
The Bucs have made a lot of smart acquisitions in 2010 and hiring Alex Van Pelt as quarterbacks coach might be at the top of the list.
The way Freeman has played, it's hard to argue with this logic. Freeman has even hinted that last year he has little time with Greg Olson who was promoted from quarterbacks coach to offensive coordinator just before the season began.
So the dots can be connected that Freeman's ascent into near-elite status can be directly related to Van Pelt's hiring.