Is Raheem Morris Enabling Aqib Talib?
November 30th, 2010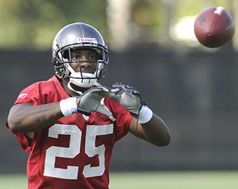 There is a line of thought by some that a team takes on the personality of its coach.
There is also a line of thought that Raheem Morris's penchant for "violent" play may not exactly be the best for someone who has a tendency for violence off the football field.
Those premises seem to be in the forefront of Tom Balog's latest. The longtime Bucs beat writer for the Sarasota Herald-Tribune seems to believe the Bucs, or at least Morris, are enabling Aqib Talib's sometimes non-conformist behavior.
Balog took Morris to task for defending Talib's outburst at an NFL official after Sunday's game. Talib's tongue-lashing of the official nearly ignited a physical confrontation between Talib and the official after the official went totally overboard calling Talib a vulgar street term used for female genitalia.
Instead of chastising his loose cannon cornerback Aqib Talib for being out of line and embarrassing the Buccaneers' organization for using language depicting slang of the female anatomy at a game official Sunday, Tampa Bay head coach Raheem Morris put on his lawyer cap Monday to once again enable his famously volatile player.

Listen to this spin, which Morris delivered with all the fake downplay demeanor perfected by everybody's favorite most recent president, George W. Bush.

"I'm not going to sit here and act like Aqib did anything wrong," Morris said. "That's between those two men and whatever happened, happened."
Look, Joe is simply outraged at what the NFL official said to Talib and he should be thrown out of the NFL as a result. But Joe is not condoning Talib's actions either. Screaming at a referee about a call made 90 minutes prior isn't going to change the score of the game.
Balog seems to imply that Morris' outburst at the officials in the first half over the same call, and Morris' debate with the officials as the first half ended, may have indirectly egged on Talib.
Joe will have a little more on this later but it's unfortunate this incident happened shortly after Talib passed anger management counseling.