HBO Should Come To The Bucs
November 25th, 2010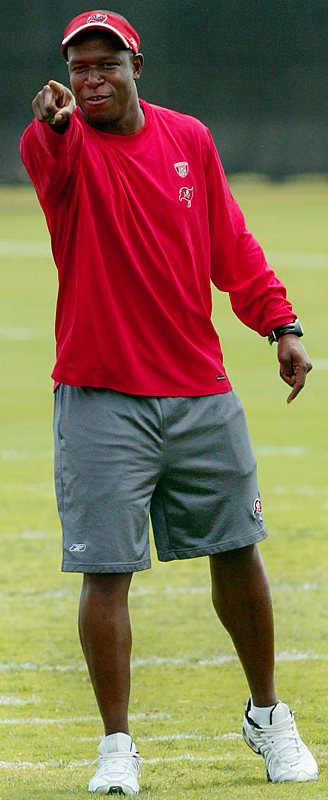 OK, Thanksgiving is supposed to be a fun day, despite the Lions' putrid ways trying to ruin people's feasts throughout the land. So let's have some fun.
Yesterday, Anwar Richardson of the Tampa Tribune posted on the Bucs TBO Twitter feed that HBO should come to Tampa to document the Bucs training camp in its annual "Hard Knocks" series.
HBO should consider Hard Knocks Tampa Bay Buccaneers next year. Bucs coach Raheem Morris mic'd up would be must see TV.
Anwar is right with that and Joe's had conversations with Anwar before about this, but the series needs more than just one personality to focus on.
Other than Raheem, is there really and Bucs player who has a larger than life personality? Stylez White would be one. Davin Joseph, maybe. Other than that, there really isn't anyone on the Bucs who may be remotely interesting to non-football fans (and that's who HBO/Hollywood producers are after).
The best time for HBO to have come to Tampa would have been the training camp after the Bucs won the Super Bowl. That was like a buffet to a TV producer. Chucky, Warren Sapp, Meshaun Johnson, Simeon Rice, John Lynch, Martin Grammatica (who had enough quirks to warrant a feature), damn, that would have been the best Hard Knocks to date.
Alas, it didn't happen.
Oh, another potential hangup with Anwar's suggestion: There may not be a training camp in 2011.