Davin Joseph Walking On Bad Foot
November 29th, 2010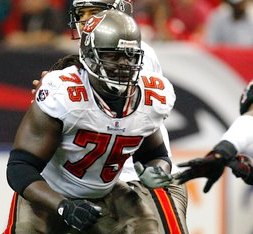 It wasn't as bad as the pistol-whipping the Steelers handed the Bucs, but the physical nature of another AFC North opponent, Baltimore, left the Bucs with a number of serious injuries.
While safety Cody Grimm is likely lost for the season with a broken fibula, Bucs fans are holding their breath over the status of right guard Davin Joseph who injured a foot.
The way Woody Cummings of the Tampa Tribune described in the injury, it seems only somewhat serious.
Bucs G Davin Joseph sustained a foot injury in the first quarter and was replaced by Jeremy Zuttah. Joseph would not expand on his injury when asked after the game but did not wear a protective boot and could walk without crutches.
Joe doesn't like the chances of Joseph playing next week against the Dixie Chicks.
If there is a bright spot, it is that Joseph was replaced by Jeremy Zuttah. Two years ago when Zuttah was a rookie, Joseph missed a handful of games to start the season and Zuttah replaced him.
Rarely if ever was Zuttah's name called. That's high praise for an offensive lineman.