Cowardly Refs Refuse Comment On Talib Incident
November 29th, 2010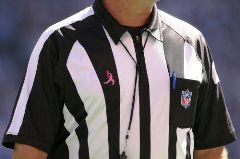 Joe has a lot of respect for referees of all sports. It's a thankless job that Joe wouldn't want for any amount of money short of $250,000 annually.
(Yes, even Joe can be bought).
That written, Joe expects officials to have a modicum of decorum. If a player gets out of hand, defend your case and walk away. If the player persists, there are many options available for officials to deal with a disruptive player from tossing a flag to an ejection to writing up a report to the NFL office and warden commissioner Roger Goodell.
By no means or measure should an official involve himself (or herself) in a verbal bout of profanities with a player and it is beyond the pale to call a player's performance, using a vulgar term for a woman's genitalia.
That is exactly what happened yesterday when Aqib Talib, an emotional player if not something of a loose cannon, berated an official after the Bucs loss to the Crows, and the referee, in full view of the Bucs press corps, retorted with the aforementioned profanity.
So if said zebra has the cajones to call out an NFL player like that — who by the way played every bit like the man he is — at least don't compound the matter and act like said woman's genitalia and hide.
But that's just what happened reports dapper Rick Brown of the Lakeland Ledger. He tried to query the officials as to the roots of the incident, and Brown was told via a pool reporter of all things, in so many words, to go take a long walk on a short pier.
The officials, through a pool reporter, had this to say: "We only make comments to the pool reporter when it's about a call that was made on the field," said officiating supervisor Neely Dunn. "So, we have no comment about whatever you're talking about. That's the only thing I'll say right now. We have no comment about it. If you want to ask us something that happened out on the field, we will entertain that. But we're not going to entertain what you're talking about."
Joe thinks this is just rich. Though this may be a bit harsh, the official in question should never work another NFL game. If he did this with Talib, who is to say he's never done this before with another player and won't do it again? Certainly his crew cannot work a Bucs game if he still is employed.
Already this official is tainted. How can he work another Bucs game and be objective? It's none of an official's business how a player plays so long as a player abides by the rules.
This official who crudely went after Talib certainly didn't abide by simple good taste or professionalism expected from a man in his position.
The NFL doesn't need to turn into baseball where umpires have rabbit ears and often try to bait players and managers into arguments.