Coach Of The Week: Raheem Morris
November 22nd, 2010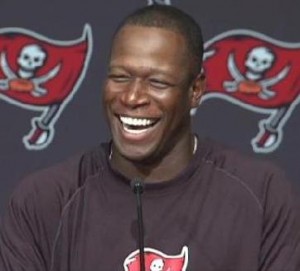 Apparently satisfied with his bowl of oatmeal and hot cup of coffee, Peter King of SI.com banged out his weekly must-read Monday Morning Quarterback.
In this week's awards, he pats Bucs coach Raheem Morris on the back, suggesting the Bucs energetic leader was this week's Coach of the Week.
Coach of the Week
Raheem Morris, head coach, Tampa Bay.

The Bucs had a tough decision to make Friday — where to draw the line for sudden party-guy Mike Williams, an absolutely vital cog to their offense, when he was stopped for driving-while-impaired in Tampa early Friday morning. Because Williams didn't test over the legal limit for being drunk, Morris and GM Mark Dominik took deep breaths and let Williams play, hoping it wouldn't set a bad precedent. We'll see if it does. But again, everything Morris touches turns to gold. The Bucs shut out San Francisco 21-0, and they're a stunning 7-3.
Absolutely Raheem should be coach of the week. Joe is simply stunned how that soft Bucs rush defense and defensive front not only shut down Frank Gore but also racked up a half-dozen sacks on a mobile quarterback — that's two short of the team's season total prior to yesterday!
Joe simply cannot remember the last time a Bucs coach came up with a gameplan to completely shock the sober football world like yesterday. Maybe Chucky when he helped craft a lock up of Rich Gannon in the Super Bowl was the last time a Bucs coach game up with just a brilliant gameplan?
Joe's not throwing out hyperbole either. It was that impressive.
Joe also doesn't know how Mike Singletary survived the night. Forget Brad Childress losing to the Packers. Singletary having a team get shut out and give up six sacks and having one of the NFL's best backs held to 23 yards by the likes of Adam Hayward, Alex Magee and Cody Grimm at home is unconscionable.