Bucs Don't Want Sacks
November 16th, 2010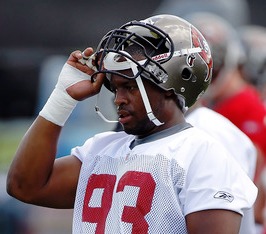 Bucs fans have grown so angry over the lack of heat the defensive line has put on opposing quarterbacks, so unnerved they're ready to toss a warm $7 beer onto the field of the CITS.
The fact the Bucs are dead last in the NFL in sacks from their defensive linemen — last! — may be on purpose.
No, Joe's not hitting the bourbon this early in the morning. Joe's completely sober. Joe gets this information from none other than Steve White.
In his recent "Bull Rush" column on his blog, "Passing on the Game," White, who logged six years with Rod Marinelli as a Bucs defensive end, details how the Bucs are using a 3-3-5 defensive set on third downs and that formation simply cannot produce sacks from the front line.
Joe will let Steve explain:
First its obvious that all the talk about showcasing Gerald McCoy last week was just that, talk. The Bucs didn't do anything new that could possibly be construed as "showcasing" his talents as far as pass rushing goes and if anything to me they just stayed the course.

Second because we are winning more than we are losing I am willing to accept that the Bucs will continue to feature a 3-3-5 alignment. What I am not willing to accept is the notion that they ALSO care about getting sacks. The two are just about mutually exclusive at this point. If they want to keep running the 3-3-5 that's fine, but at least admit that the goal in that case is to cover, not pressure the quarterback.

Yesterday out of 14 non two minute 3rd down plays the Bucs used a 3 man line 9 times. That doesn't mean that they only rushed 3, but it does mean only 3 defensive linemen were in the game. All year they have run the same thing and they had 1 sack to show for it from Quincy Black. Now they have 2 thanks to Ronde Barber. So you do the math, two sacks in 9 games, none by a defensive lineman, but they used it 9 out of 14 times on third down against the Panthers.
And there you have it. There's the reason why the Bucs are so pitiful in racking up sacks. It's the formation that Todd Wash (Raheem Morris?) is using. It's the mentality: cover, not pressure.
Please click on the link above and read Steve's entire column. Educate yourself!