Blount Signed Through 2011
November 23rd, 2010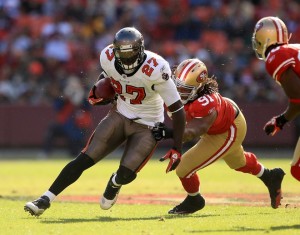 Joe goes through the daily hate mail, love letters and Viagra ads in his inbox and will sometimes try to answer a question burning up the minds and hearts of Bucs fans.
Over the past couple of weeks, fans have asked Joe about the contract status of rookie LeGarrette Blount, who was signed off the street after being cut by the Titans before opening day.
Some fear the manbeast in the Bucs offense could walk after the season.
Don't worry. Per a source with intimate knowledge of Blount's contract, Joe has learned Blount signed a two-year deal with Tampa Bay this summer. So if there is a next season, he'll be back and playing for the Bucs on the cheap, assuming he doesn't try to squeeze Team Glazer for a new deal.  
Undrafted rookies sign three-year deals or less. Two years is the most common.
Beyond that, if the NFL collective bargaining agreement remains the same, Blount could be offered an "exclusive rights tender" by the Bucs after 2011, or a fancy new deal.
Exclusive rights tenders for third-year players don't pay much. So that all could get extraordinarily messy if Blount has a great 2011 season.
Joe would love to see Blount close out 2010 with 1,000 yards and get rewarded by Team Glazer.