A Different Glimpse At Freeman's Leadership
November 23rd, 2010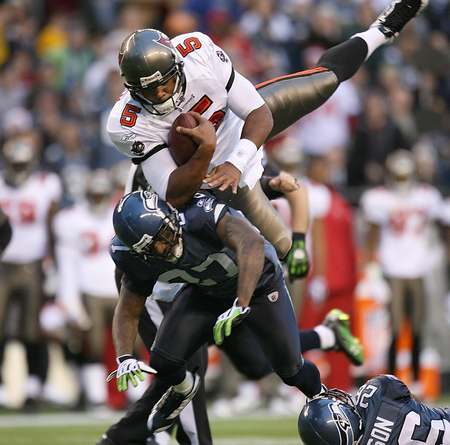 So how does 22-year-old Josh Freeman command massive respect, the kind that stops teammates in their tracks when he speaks?
Per Raheem Morris, some of that comes from Freeman's extraordinary preparation and that guys know Freeman has worked harder than they have.
"Our young football team, they all understand the work that he puts into it. He's accountable to all those guys to be on the details of everything. When Josh Freeman says something to our offensive team, they all listen. Because they know, 'he might have looked at something more than I did.' They want to make sure," Morris said on The Raheem Morris Show last night on WDAE-AM.

" They're going to win because of him not in spite of him. They understand that. These guys go out and do a great job for him. It spreads over to the defensive side of the ball now, too.
Joe is impressed and not surprised. A huge component of leadership is knowing more than the other guy — all the time.
Freeman obviously embraces every aspect of being a franchise quarterback.