Arrelious Benn Continuing To Shine
November 7th, 2010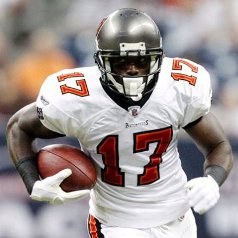 Since the Bucs offense has opened up the past two weeks there were two glaring demonstrations:
1) LeGarrette Blount.
2) Arrelious Benn.
Joe believes Benn's growth was on full display today in the painful loss to the Falcons. Sure, he only caught one ball for 14 yards, but Benn made a truly heady play when he was able to lure the Falcons into a pass interference call on an underthrown ball by Josh Freeman, which was actually a cool call: fleaflicker.
Had the pass been on target, Benn likely would have had a touchdown and the Bucs a win.
If there was a bright spot to come out of this game, it is that Benn continues to shine.