Aqib Talib, NFL Official Exchange Profanities
November 28th, 2010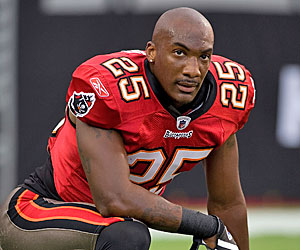 It seems that the bitter loss to the Crows this evening may have gotten the best of Bucs cornerback Aqib Talib. It also got the best of a game official.
Per Anwar Richardson of the Tampa Tribune, Twittering on the TBO Bucs Twitter feed, Talib and an NFL game official were seen cursing at each other.
Anwar: Bucs CB Aqib Talib and an NFL official just cursed each other outside the locker room
Now Joe understands how Talib could be upset and he should know better than to do this. But for an NFL official to engage in a cursing match with a player is unspeakable and simply unacceptable.
Joe suspects NFL warden commissioner Roger Goodell to come down on Talib for this but if he does, he should come down equally hard if not harder of the foul-mouthed official.
UPDATE:  Rick Stroud of the St. Petersburg Times also witnessed the exchange between Talib and an NFL game official and documented some of the content on his Twitter account, and per Stroud the incident nearly turned physical.
One official on Carl Cheffers crew told Talib in response, "You played like a p—-." Talib then had to be held back by teammates.

Talib responded to the official's comment by saying, "I'll (hit) you in your b—- a– mouth.' Talib would not talk to reporters Sunday
Joe's sorry, but Goodell needs to reprimand this game official. There is no call – none! — for an official to call a player a "pr!ck."
UPDATE II: Good guy Stephen Holder of the St. Petersburg Times also Twittered that the NFL game official in question mocked Talib.
Talib used foul language and official used very foul language too, saying "you played like —–" I cant use the word. They both used it tho
Again, Joe believes for an official to pull a stunt like this is beyond the pale.
UPDATE III: Joe texted some people he knows were at the scene and can confirm the profanity the NFL game official called Talib was in fact a vulgar reference to female genitalia.