Will Earnest Graham Get More Touches?
October 11th, 2010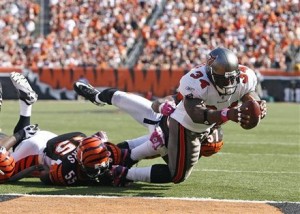 So there was No. 34 hurdling Bengals DT Pat Sims and blown up Keydrick Vincent in the backfield yesterday.
No. 34 then regained his balance and willed and powered his way into the endzone.
And No. 34 also was the guy hammering into the line with the Bucs backed up on their 1 yard line and busting a 61-yard run.
Joe doesn't know many fullbacks with that kind of ability. So when is Earnest Graham going to get more touches?
Cadillac Williams jacked up his season average to 2.6 yards a carry after another sluggish Sunday. And Caddy dropped yet another screen pass. Clearly, the Bucs can't run the ball and, as expected, the coaching staff has little faith in Kareem Huggins' and LeGarrette Blount's ability to protect Josh Freeman, so they're not on the field.
If Huggins and Blount are on-paper options more than anything else, then Greg Olson needs to find away to get more out of Graham. When given a chance, the guy has delivered, even last year in his inexplicably brief opportunities (14 carries for 66 yards).
What exactly are the Bucs saving him for?
Joe can't imagine anyone making a case that Cadillac is a better option than Graham.