THE OPTIMIST: Bucs Developing The Talent
October 15th, 2010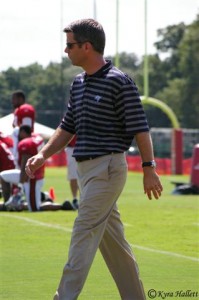 You've all read THE PESSIMIST, who spews his Bucs-related anger like no other. But Joe also wants you to know THE OPTIMIST. 
THE OPTIMIST is Nick Houllis, a Bucs fan and an accomplished writer whose steadfast allegiance to the team goes back to the 1970s. Houllis is the founder, creator and guru of BucStop.com, a place Joe goes to get lost in time via Houllis' stunning video collection.
THE OPTIMIST will shine that positive light in your eyes. Some will love it. Some won't.
So you're probably asking yourself by now, 'why are the Bucs winning?' How is it this team that is pretty much the same club that won only three games in 2009 has the same amount of wins already in 2010, and has gone 5 dash 2 (Gulp) in the last seven games?
Well, for starters, there is never only one reason that anything gets done. One is the way different players were added; and it's the primary difference between this regime, and the last one.
These Bucs know how to draft players. Good college teams know how to recruit, and good NFL teams know how to draft; these are your core players you build your team around. These players can be on your roster for a decade, as opposed to free agents who tend to stay on a roster for only a couple years, maybe four.
There is no mystery to why this team is being run by a Morris and Dominik instead of a Gruden and Allen; the prior regime would not or could not develop young talent, instead relied on expensive (short and long term) free agents.
Take a look at players who made major contributions in the win over Cincinnati as well as victories over Cleveland and Carolina this year.
Sammy Stroughter, a seventh round draft pick, is the third-down specialist who had a few key first downs Sunday, as well as others.
On third down with 10:00 left in the third quarter Sunday, still down by three, Cincinnati threatened with a possession near the 50. They threw deep down the left sideline for Ochocinco, but the pass was excellently defended by E.J. Biggers, another 7th round draft pick that is looking to be the heir apparent to Ronde Barber. That's two seventh-rounders from the 2009 NFL draft, while the Gruden/Allen regime were supplying the team with names like CB Marcus Hamilton,  S Hamza Abdullah, or the more infamous CB Alan Zemaitis, who was a FOURTH round pick!
What is the current leadership doing with 4th round picks? They're doing their homework and taking the likes of Mike Williams WR from Syracuse, and DE Kyle Moore who laid a smashing hit on Carson Palmer in the second half to end another threat.
You can go down a list, and find players drafted by Mark Dominik and crew, guys like Cody Grimm who is shoved into the starting lineup and after two games and has more touchdowns than John Lynch already! Arrelious Benn made some nice catches and will continue to grow each week and get better. to the point where 19, 18, 17 won't sound like a countdown to the end of a season, but what it is instead, roster numbers of the Bucs up-and-coming lethal weapons.
Almost every player taken in the '09 draft had a part in the win over Cincinnati; From No. 1 pick Josh Freeman on down. Compare that to the starters from the 2008 draft, Gruden/Allen's last; CB Aqib Talib and LB Geno Hayes, and third round pick Jeremy Zuttah is starting for Faine now, but is a backup across the line. Mind you this was probably the deepest draft of Gruden's days here.
More names from Bruce Allen and Jon Gruden draft War Room; WR Aaron Lockett, TE Tracy Winstrom, C Zach Quaccia, DE John Stamper, WR Marquise Walker, T Lance Nimmo, LB Marquise Cooper (RIP), FB Casey Cramer, WR Lenny Williams, TE T.J. Williams, CB Justin Phinisee, and TE Tim Massaquoi.
Before the season, knowing the team had 10 draft picks to use in a very deep draft, I heard a lot of criticism on the radio, saying basically do we trust these people who gaffed in years prior to bring in quality bodies, to be responsible for laying the foundation for the franchise for years to come. Acknowledging that a lot of the same people are still in the building, be it Dominik, or director of college scouting Dennis Hickey, perhaps the voices were correct in their concern.
Or maybe the problem was not the picking of the talent but the development of it.
I've said this on many occasions to people who want the Glazers to spend more money and bring free agents NOW rather than later to augment a developing team: when you bring in a free agent and plug him into a position, you prevent a young player from also playing that position and developing there. You must either sacrifice development of a young player who may take over that position and keep it for a decade (say Mike Williams) or plug in the veteran for a few years (Anquan Boldin, or Brandon Marshall), only to find you need to replenish it again. You can't have both.
Clearly, the Bucs under Dominik and Morris have got it right, or at least that's the view from 3-1; Because that too, may change.