The Draft Philosophy Of Bruce Almighty
October 15th, 2010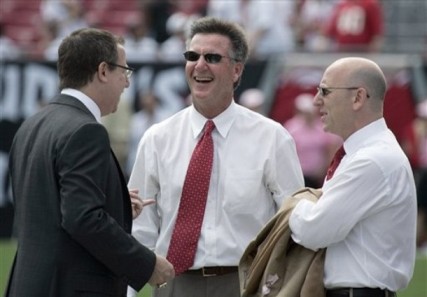 Yeah, Joe's a boring guy. Friday morning he was home watching the Documentary Channel. Sure, Joe understands this is no way to lure Rachel Watson.
There was a film shown this morning about the NFL draft, "Two Days in April." It was a fascinating look at a handful of players that had their lives chronicled from their final college game through the Senior Bowl (if selected), through the combine and up to the 2006 draft.
At the NFL combine, one of the players featured, Derek Hagen, who later was drafted in the third round by the Dolphins, was being interviewed in a hotel room by then Bucs general manager Bruce Almighty and his right-hand man who is the current Bucs general manager, Mark Dominik.
Dominik, largely, sat silent on the couch to Bruce Almighty's left. Bruce Almighty did the vast amount of the talking, with the exception of Dominik asking Hagen, "What kind of coach do you like, a guy that pats you on the back or guy that gets on you?"
When Hagen answered he liked both, that he liked a "mellow" coach who also would motivate a player, Bruce Almighty laughed and said, "We don't use the word 'mellow' very much around One Buc Place."
But what Bruce Almighty said a bit earlier in the interview may speak volumes about the draft philosophy the Bucs had under Bruce Almighty (and Chucky, who was also in the film). Bruce Almighty told Hagen, "Look, you are all good players here. What we are looking for are good teammates."