Sean Jones Talks To Joe
October 16th, 2010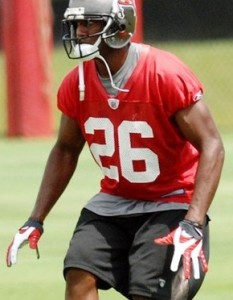 A few days ago, Joe had the chance to chat with Bucs safety Sean Jones. The first-year Bucs player spoke about the Bucs defense, what he brings to the table as a safety, and the team's relationship with head coach Raheem Morris.
JoeBucsFan: How much of a difference has it been coming from Philly to the Bucs? Is there that much of a difference between the X's and O's?
Sean Jones: Totally different. In Philly, we pretty much blitzed every play. Here, it's pretty much a Tampa-2 and we play a lot of coverage zones to stop the run. It's a different kind of scheme.
Joe: Are you still trying to become comfortable in this system? Or are you comfortable in this system?
Jones: I'm definitely real comfortable in this system. It's similar to the system we played in with Cleveland. Our base defense in Cleveland was very similar.
Joe: So was coming here like putting on an old pair of shoes? What I mean by that is this was a defense you knew, you just sort of had to shake the rust and cobwebs off.
Jones: Yeah. This is a great defense. In this defense, we just have to be physical and make plays.
Joe: Raheem Morris is both the head coach and he also has the title of defensive coordinator. He used to be the secondary coach. How hands on is he with the secondary?
Jones: He's very hands on for a head coach. He's always in our meeting rooms. He's always in our defensive backs room. He's always giving his pointers. As defensive backs, we have a great deal of respect for him. We ball out to make him look good.
Joe: What are some things you learned from him?
Jones: Yeah, defense. X's and O's of our defense.
Joe: Give me an example of something you learned. You know like, 'Oh, wow, that will help.'

Jones: (Laughs) No, man, I can't do that.
Joe: (Laughs) OK. We won't go there. What would you say is your strength is as a safety?
Jones: Hhhmm. I'd say my speed and I'm a good tackler. I just want to be an all-around player, be all over the field.
Joe: Now Kellen Winslow for example, he just raves about Morris. Says he wouldn't want to play for another coach. Do the rest of the players have that kind of respect and admiration for him?
Jones: Most definitely. Rah is a great young coach. He's full of energy. A lot of players can relate to him. We just want to go out there and win and play hard for him, each and every week.