Ronde Barber Not A Hall Of Famer?
October 9th, 2010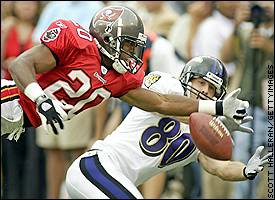 Look out. Pat Yasinskas, NFC South writer for BSPN.com, has been talking to people.
And Yasinskas is learning that his network of NFL "coaches, players and personnel people I talk to" doesn't think Ronde Barber is a Hall of Famer.
In a mailbag offering for his Disney outfit, Yasinskas writes he personally doesn't think Barber is Hall of Fame material, either. Heck, he's not quite sure John Lynch gets in.
Kristen in San Diego, Calif. writes: It sounds like Chad Ochocinco respects Ronde Barber as if he was a Hall of Famer. Why don't you think he will end up in the HOF? Personally, I think he is great.

Pat Yasinskas: I think Barber has been an excellent player for a very long time. I might be proven wrong down the road, but the coaches, players and personnel people I talk to don't think Barber's a Hall of Famer. They view him the same way I do, as a guy who has had a very good career in a system that was perfect for him. Besides, I think some Tampa Bay fans need to be a little more realistic in what being a Hall of Famer is really all about and how the system works. To date, the Bucs have one Hall of Famer, Lee Roy Selmon. He'll be getting some company very soon. Derrick Brooks is a slam dunk the moment he shows up on the ballot. Warren Sapp will get in as well. That's two guys right there from an era where the team won precisely one championship. They were not the Pittsburgh Steelers of the 1970s and that will come into play when that age of Buccaneers comes up for Hall of Fame consideration. You're not going to see a crop of five Bucs from that time period go into the Hall of Fame. John Lynch? My guess is he's got a chance and will probably get in after a period of time. Barber and Mike Alstott are the other two guys that some Tampa Bay fans talk about as potential Hall of Famers. I think they fall into the same category — guys with very nice careers, but not quite Hall of Famers. Should we throw Simeon Rice into the discussion, too?
As usual, Joe and Yasinskas live on different planets. The fact Yasinskas isn't sure Lynch gets into the Hall is enough to make Joe wonder (again) what Yasinskas is doing on gamedays. Remember, this is the same guy who wrote Derrick Ward played pretty in Miami during the Bucs preseason after Ward had 12 carries for 20 yards and two fumbles.
Regarding Barber, he's the got the numbers, the name recognition, the ring, and widespread respect. He's no first ballot Hall of Famer, but it would be surprising if he doesn't make it one day.