Razing Arizona
October 31st, 2010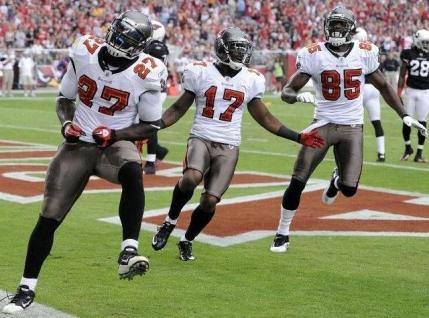 Joe doesn't think it's a stretch to say LeGarrette Blount won the game for the Bucs.
Despite the Bucs getting four interceptions — four! — and two pick-sixes, the defense still gave up 27 points — to a couple of hacks like Max Hall and Derek Anderson of all people — which is absolutely mindblowing to Joe!
There is no way around it: Game ball to LeGarrette Blount.
The Bucs' running game has been stagnant if not invisible with Cadillac Williams. But the more the Bucs have been given Blount the ball, the better the Bucs running game has become.
When's the last time a Bucs running back has had such an impact in a win? It has been a while.
Damn, what a game Blount had. He had 22 carries on 120 yards and two touchdowns. Is there any doubt the Bucs would have won this game without him?
Joe doesn't think so.
First there was that nifty move for a 15-yard touchdown. Dude looked really quick for a massively big guy. Then there was his game-clinching play.
Blount was running right, cut left, back right and decided to go all Renaldo Nehemiah on the Cardinals, hurdling a would-be tackler and racing 48 yards downfield.
Ballgame.
Damn, that was beautiful.
Joe has written this before and will write it again: Blount is your starting running back. Cadillac is nothing more than a third-down back to be used in passing situations only.
Blount put to rest tonight any doubt who your starting running back is.