Raheem Says Cadillac Is First Option On Sunday
October 26th, 2010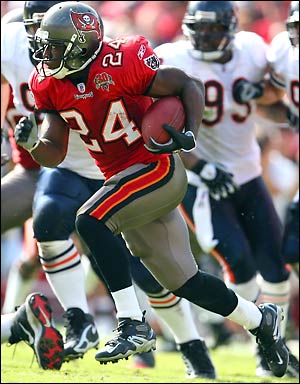 Don't look for bruising, downhill-running, hole-finding, opponent-dragging LeGarrette Blount to start on Sunday in Arizona.
Blount's job is to get in there and spark the running game if/when Cadillac can't make anything happen, so said Raheem Morris on The Raheem Morris Show, on WDAE-AM 620 last night.
"Everybody wants to take LeGarrette Blount playing as phasing out Cadillac. These guys both got game balls [Monday]. I told Cadillac and Legarrette Blount both. I said 'Cadillac is not only a mentor and a great person for LeGarrette Blount to follow and try to be like and mimic, but he's also part-time his coach.' He helps him out around the building. These guys help each other out. It's no different what's going to happen on Sunday. If Cadillac can't get anything going in the run game when he's going out there, then LeGarrette's job is to go out there and try to pick us up."
So there you have it. Blount is the clear cut No. 2 guy in Raheem's mind. The guy who will jump start the running game if Cadillac stalls early, which he has done in every Bucs game outside of the opening series on opening day.
Joe would prefer the Bucs just give Blount the damn ball. Joe suspects good things would happen.