Play Of The Game? Not Cadillac Williams' TD
October 26th, 2010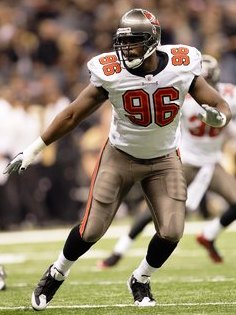 When Bucs fans think of the play of the game in the Bucs win over the Saints, naturally they will point to Josh Freeman's one-yard pass to Cadillac Williams for the winning touchdown.
Understandable, but eye-RAH! Kaufman of the Tampa Tribune begs to differ. Rather, he suggests looking at defensive end Tim Crowder's lone tackle.
There was slightly more than five minutes left in the game. Steven Jackson broke loose for the Rams and was headed to a first down as the Bucs expected a pass.
But no! Joe will let Crowder describe the rest, via Kaufman.
"I beat the tight end to the inside and managed to wrap Jackson up from behind," Crowder said. "He could have easily gotten that first down on that play. I looked toward the sticks because I wasn't sure if he had the first down, but he was way short and we were off the field."

Jackson's 7-yard gain forced the Rams to punt instead of taking a few more minutes off the clock, giving the Bucs time to march 81 yards in a 16-play drive that consumed 4:35.

"That was one of those plays where you might not think it's that big at the time," Crowder said. "Looking back, it was huge."
Of course, that forced the Rams to punt and the Bucs took over in what would be the game-winning drive.
Often, it's unnoticed plays that go a long way to winning a game. Joe's good with Crowder putting up such microscopic numbers as long as the numbers he puts up result in such key plays.