Peter King Spins Josh Freeman Tale
October 29th, 2010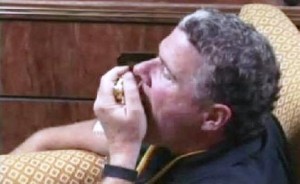 The reason why coffee-slurping, popcorn-shoveling, oatmeal-loving Peter King writes for Sports Illustrated is because he is such a talented writer.
He's also a good storyteller.
Earlier this week while co-hosting "The Opening Drive" with Ross Tucker, heard exclusively on Sirius NFL Radio, Joe heard King tell a story he learned from his NBC broadcast partner, Father Dungy, about Josh Freeman.
Though Joe's not sure, it seems Father Dungy got to meet Freeman's father just after Bucs drafted the quarterback from Kansas State.
Joe will let King take it from here.
"I love Josh Freeman. Love him. Like him a lot. Funny story: Tony Dungy lives in Tampa and is a friend to a lot of people with the Buccaneers and still knows a lot of people who work there. When Freeman was drafted, Tony had a chance to speak with Freeman's dad. The dad said, half-kiddingly, to 'keep an eye out for my son.'
"Tony said he could call him.
"So after the two met, Tony calls the father and says, '[Freeman] doesn't need me, he is so mature."